Mario Balotelli
Goals seem too easy for him.
Compact fixtures had caused various unexpected results including Man City's easy demolition against Aston Villa, draws by Man Utd and Arsenal and most shockingly (perhaps not), Liverpool's fall at home against Wolves! Such a miserable month for Liverpool players' owners.
Also on the spotlight are Chelsea's first win after six consecutive winless streak thanks to Malouda and Fulham's stunning bounce with Baird scoring 20 fantasy points!
Will more unexpected results happen at the first and second day of 2011?
---
PART I: PRE-MATCH ANALYSES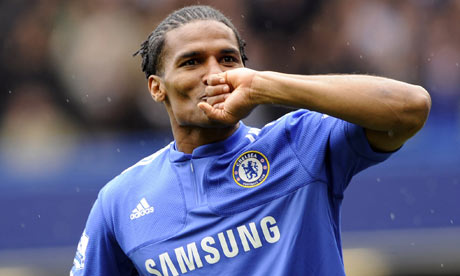 Florent Malouda
Will he make it two in a row?
All Games
West Brom v Man Utd (1-2) - West Brom's leaky defence will give United the chance to improve their embarrassing away record. Still, don't put too much of hope on them.
Liverpool v Bolton (1-1) - The Reds certainly lost very much of their form after that long break.
Man City v Blackpool (4-0) - The only question: Balotelli or Tevez? Or both?
Stoke City v Everton (1-2) - Should be the last match for Tim Cahill before he leave for Qatar so he should give out all he has.
Sunderland v Blackburn (1-2) - Steve Kean certainly is more adventurous than Big Sam at away.
Tottenham v Fulham (3-0) - Bale and VdV always take turns so this time it the latter should shine.
West Ham v Wolves (2-1) - A victory is a must for the Hammers to survive and this looks very likely at home.
Birmingham v Arsenal (0-2) - The big guns were rested last gameweek so three points are certainly Wenger's target.
Chelsea v Aston Villa (2-0) - Miserable Villans will provide the platform for the Blues to resume their form recovery.
Wigan v Newcastle (2-2) - With N'Zogbia out, Wigan loses the winning edge.
---
PART II: SQUAD SELECTIONS
Carlos Tevez
If he plays, he scores.
Captain Picks
Tevez/Balotelli - Do you believe Blackpool will get two clean sheets in a row? I don't.
Buys-In
Balotelli - This kid certainly look good especially in penalties. He fooled Friedel effortlessly.
Squad of XV
GK: Hart
DF: A Cole, Hutton, Kyrgiakos, Kolarov
MF: Van der Vaart, Nasri, Malouda, Cahill
F: Tevez(C), Berbatov
Subs (in order): Fabianski, Carroll, Pedersen, Coleman
Captain: Tevez
Emergency Captain: Value