The 10/11 season of Barclays Premier League is about to begin in 20 days! So fantasy managers, you should start to prepare for your new fantasy season! A good start will make you easier to achieve success.
In this post I am going to give out my two cents for setting up your initial team in this fresh season. But before that, for those new managers (and old ones who forgotten their accounts), please register at
http://fantasy.premierleague.com/
and read the
rules.
Overview
So how to build your initial team? Of course we would love to have all the premier league stars like Lampard, Drogba, Gerrard, Torres, Tevez, Fabregas, Van Persie, Rooney and more on our fantasy teams. However, these guys are expensive and we will only have 100 bucks available. Hence it is necessary to put in some effort to find those cheap and effective players. But before that, let me help you to choose the big guns in your team first.
Big Guns
Bear in mind that players' price usually reflects actual performance and reliability. Lampard for example, is only available if you spare £13m on him due to his sky-high score of 284 points last season. However, the initial budget cap of £100m means that you can only spare an average of £6.7m per person, and Lampard's price is almost a double!
Since they are so expensive, is it better to get a group of average cost players?
NO!
Teams with a mix of expensive and cheap players are always better because of two main reasons. Firstly, the captain effect. Since a captain gets twice the score he should get, therefore you should always put your captaincy on the one who can provide you fantasy points with high magnitude and frequency, and big guns like Lampard and Rooney fit in this category. Remember that it makes a great difference for a captain who scores 10 (
20 after captained
) and another who scores 20 (
40!
). Secondly, you will only deploy eleven players out of fifteen in your squad per week. Therefore it is always better to put some 4 dollar men on the bench rather than 6 or 7 dollar lads.
Now you have gotten the concept, which big guns should you pick for your initial squad? Let's see the list of 10 million pounders below:
Frank Lampard (£13m) is expected to continue to lead the offense of Chelsea.
Didier Drogba (£12.5m) is injured and could be missing the start of the season.
Wayne Rooney (£12m) might be too tired in the beginning of the season after a miserable World Cup.
Cesc Fabregas (£12m) is having a great early season fixtures but wants to join Barcelona.
Steven Gerrard (£11.5m) is expected to play in a deeper position this season with the arrival of Joe Cole.
Fernando Torres (£11.5m) is rumoured to leave Liverpool and always troubled by injury.
Carlos Tevez (£10.5m) is expected to play an integral role again in Manchester City this season.
Robin Van Persie (£10m) is having a great early season fixtures as well.
With only 100 million to spend, I would say that two or three is the optimum number of big guns to own.
Lampard
for me is a must, while the other slots can be filled by
Rooney, Fabregas
,
Tevez
or
Van Persie
.
Will this 12½ pounder worth his price?
Prolific Attackers
With the aces chosen, it's the time to focus on the other backbones on your team. You can either pick the major attackers or defenders first, but since the attackers are more effective and expensive than defenders, I will first focus on the former.
As you can derive from the word itself, prolific attackers are players who are productive in offense. They are good in goals or assists or both. The better ones even provide you bonus points frequently.
Some recommended attackers other than the big guns include:
Jermaine Defoe (£9m) is a natural scorer and gives you big surprises sometimes with four or five goals.
Darren Bent (£8.5m) is reliable and doesn't not choose his opponent to score.
Joe Cole (£9m) is expected to become Liverpool's attacking focal point.
Tim Cahill (£8.5m) and Mikel Arteta (£8.5m) always contribute when they play.
Antonio Valencia (£8.5m) and Luis Nani (£8m) are both consistent in their deliveries.
Dirk Kuyt's (£9m) respectable workload has often paid him great fantasy points.
Florent Malouda (£9.5m) was a great investment last season and is expected to repeat it again.
Gareth Bale (£6.5m) isn't the second most chosen midfielder this season for nothing.
Charles N'Zogbia (£6m) is one of the most cost effective fantasy player.
Out of this list, I would say Bale is a must. Either Bent or Defoe should be chosen as well. And here is a list of players whom I think needs some time to observe:
David Silva (£9m) is a great player in Valencia and is expected to do well in England.
James Milner (£9m) was great last season but where he will start his new season?
Gabriel Agbonlahor (£8.5m) and Ashley Young (£8.5m) both had a dim last season, but will this continue?
Marouane Chamakh (£8m) was great in Bordeaux but we don't know whether he will become Wenger's regular starting XI.
Milan Jovanovic (£8.5m) joins Liverpool for free but free doesn't mean cheap in quality.
Productive Sentinels
The primary task for defenders and goalkeepers in reality is to keep a clean sheet, and this is also the same in FPL. Every clean sheet worths
four
points, so a good and consistent defensive line can really take you far.
Another good thing about defenders is they actually score more points from goals! So the set piece giants and the flying backs, despite being expensive (they can be really expensive) are worthy investments. The mighty defenders also earn a lot of bonus points as well.
Basically you should pick defenders from teams with resolute defense like Chelsea, Manchester United, Birmingham City and others. The recommended famous fantasy defenders to open your season include:
Thomas Vermaelen (£7.5m) had a wonderful first season in England with seven league goals.
Leighton Baines' (£7m) role as set piece taker has earned him nine assists last season.
Patrice Evra (£7m) is both productive and reliable in both ends of the field.
Richard Dunne (£7m) is as mighty as a paladin's shield in Aston Villa's back line.
Ryan Shawcross' (£5m) destructive header should not be forgotten despite having an injury plaguing season in 09/10.
Jody Craddock (£5m) is magnificent for his five goals last season from low scoring Wolverhampton Wanderers.
Out of them, I would pick Shawcross as the undroppable because he's very cost effective.
The iron man.
As for goalkeepers, you need to value only two criteria. One, the ability to keep clean sheets; two, the ability to earn points from saves. For me, I would try to avoid the keepers from big five as they are too expensive and will have lesser chances to perform saves than the rest of the table. For me, only these three are considerable:
Heurelho Gomes (£5.5m) had adapted to the English environment after a disastrous first season.
Thomas Sorensen (£5m) never lacks the opportunity to conduct saves.
Ben Foster (£4.5m) should benefit from Birmingham's solid defense.
His priceless hands kept Stoke safe from relegation.
Bonus Magnets
Bonus magnets are valuable assets in FPL as they accumulate a great amount of bonus points every season. Bonus points are given to the best three performers of each game. The fantasy leaders last season like Rooney, Lampard, Dunne and Fabregas are all regular bonus point collectors.
Players who earn bonus points regularly are simply better than those who don't because even if they don't score any goals, assists or clean sheets, there is still a high odds that you will earn some bonus points from them. Your worst ever score won't be that worst if they are around.
46 bonus points last season!
Reliable Benches
With the backbone of your team completed, then it's time to fill up the rest of your squads with cheap yet reliable players. You shouldn't neglect the choosing of these players because some of your players might face a much superior opposition, limiting their chances to get more than two points.
Some recommended low-priced defenders include:
Givet (£4.5m)
Carr (£4.5m)
Figueroa (£4.5m)
Faye (£4.5m)
Some recommended cheap midfielders include:
Ferguson (£4.5m)
Bowyer (£5.5m)
Lee (£5.5m)
Parker (£5.5m)
And here's the list of cheap forwards:
Rodallega (£6.5m)
Zamora (£6.5m)
Doyle (£5.5m)
Carroll (£5m)
Carlton Cole (£6.5m)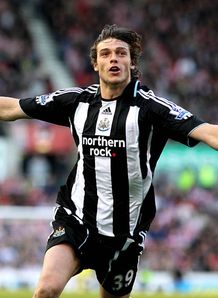 He's a great bargain with only five pounds.
Stay Alert
Check if your squad is below or equal to 100 pounds and doesn't have more than three players from the same team. If yes, congratulations as you are ready to play! However, you would need to check periodically for news about injuries and transfers and make appropriate adjustments for that.
Finally, remember to follow the upcoming tutorials and play with passion and have fun!

P/S: Avoid DMs as it is the most unproductive position in FPL.