Overview
A week of Champions League failure for Premier League clubs with Arsenal the only club to win among 4 English candidates. The bigger news however, if of course Tevez's dispute with the club which may see him being froze indefinitely. Shocking.
On the contrary to Champions League clubs from England, all 4 Europa League clubs from the same country won their Europa tie. Splendid as we saw the likes like Pavlyuchenko, Defoe, Crouch and Andy Johnson on the score sheet. Worth to take note.
7-Gameweek Fixture Analysis (Published Monthly)
In heaven run:
Bolton (CHE, @WIG, SUN, @SWA, STO @WBA, EVE) - Pretty easy after the tough run, but might struggle for the next few gameweeks with suspension of key players.
Stoke (@SWA, FUL, @ARS, NEW, @BOL, QPR, BLA) - Nothing too tough. Time to get Shawcross and Crouch in.
Tottenham (ARS, @NEW, @BLA, QPR, @FUL, AST, @WBA) - Get Adebayor, get Van der Vaart, and get them fast.
Wigan (@AST, BOL, @NEW, FUL, @WOL, BLA, @SUN) - With this kind of fixtures, it's either start performing or get relegated for them.
In hell run:
Everton (LIV, @CHE, @FUL, MUN, @NEW, WOL, @BOL) - Crazy. You should dump their players, if you were not already.
Liverpool (@EVE, MUN, NOR, @WBA, SWA, @CHE, MCI) - This is even crazier. Apart from Suarez, the others are not worth keeping in my opinion.
Game of the Week: TOTTENHAM v ARSENAL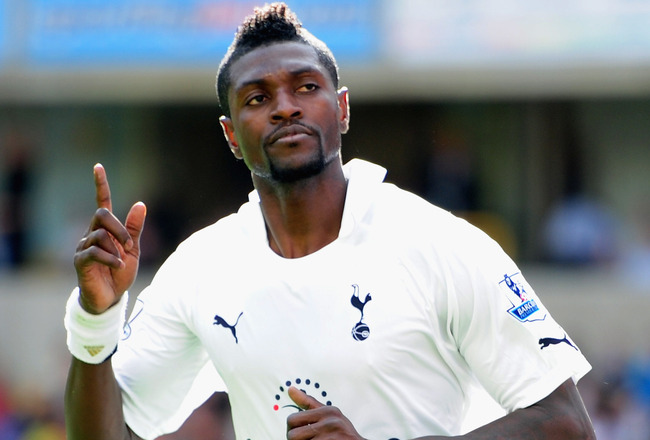 Adebayor is on a hot streak.
It's always an exciting London derby with these two as they boast the finest offence of the Premier League.
Both has got games in midweek so no side will have stamina advantage. Unfortunately though, Arsenal are suffering large scale injury crisis - tough call for them. Andre Santos started against Olympiakos and scored - not much significance though as Arsenal is still one of the worst defence among Premier League teams. With so many glass legs shattered, it will be up to Van Persie and Arteta to propel the team forward.
On the other hand, Tottenham has been in magnificent form after two slumping defeat at the start of the season. Loaned striker Adebayor is on red hot form - expect strong presence of him against the team which made him famous. Van der Vaart will be a great pick too with his attacking talent.
Expect goals galore, and I think White Hart Lane is not a piece of land to fool around. Victory for Spurs in my opinion.
Prediction: TOT 4-2 ARS
Pick and Captain: Adebayor
Pick: VdV, RvP, Arteta
Avoid: TOT and ARS Defences
Fantasy Game of the Week: MANCHESTER UNITED v NORWICH
Can Welbeck bring United
out of slump?
Easy game for United after a frustrating Champions League tie against Basel which saw then getting only 2 points out of 6 possible.
Rooney is still not available, so expect a striking pair of Welbeck and Hernandez. Nani and Young should play the most important part in United's offence this time - supplying as well as taking chances themselves.
I don't see Norwich's ability to strike goals against United too, so a clean sheet is highly probable. Expect some demolition from the Red Devils.
Prediction: MUN 3-0 NOR
Pick and Captain: Young, Nani
Pick: Welbeck, Hernandez, MUN defence
Avoid: NOR defence
Pick and Avoid
Pick and Captain:
Agbonlahor - Against Wigan it's mouth-watering.
Aguero/Dzeko/Silva - The usual choice.
Pick:
Suarez - Should get even more powerful in such an intense derby.
Drogba - Without Torres, he will get all the chance.
Vorm - Stoke are usually weak at away.
Bendtner - His height will do a lot of good to penetrate Hodgson's team.
Avoid:
BLA defence - I don't see their ability to hold Man City.
Transfer Traffic
Green (buy):
Adebayor/VdV - Great fixtures coming up.
Drogba - Free from competition at the moment.
Yellow (watch):
MUN players - Without Rooney, they're at a lower class.
Rooney - Keep yourself updated.
Red (sell):
Dzeko - Sell pressure is mounting high.
Torres - Suspended.
Bent - Doubtful and out of form.
De Laet - Injured.
Tevez - Dumped.
Gameweek 7 Dream Team
Vorm
Brown -- Jones -- Riise
Nani -- VdV -- Silva -- Sinclair
Adebayor(VC) -- Aguero(C) -- Welbeck
Subs: Mignolet -- Larsson -- Warnock -- R Johnson