Theo Walcott
Will he run to the top spot in FPL?
My life is getting busy recently and I would like to apologize for the reduced number of posts in the coming month. Anyway, let's review the recent League Cup tourney:
Theo Walcott scored a brace which will certainly draw plenty of managers into the fantasy bandwagon.
Javier Hernandez scored in three consecutive matches as Manchester United marched forward.
West Ham progressed through the next round thanks to Obinna and co.
Downing scored an extra time winner for Aston Villa.
Also remember that Carlos Tevez will out for the next one or two gameweeks so hold on before you buy in.
---
PART I: PRE-MATCH ANALYSES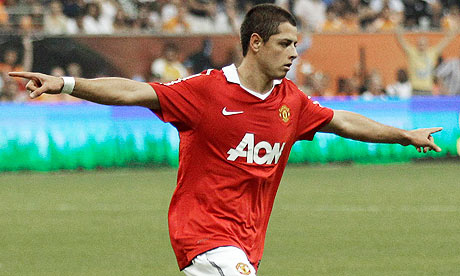 Javier "Chicharito" Hernandez
Will his scoring streak end?
Manchester United v Tottenham Hotspur
This match-up at Old Trafford often ends with a total domination by the home side, but things may get different this time as Tottenham reaches a new level in offence piloted by Bale and Van der Vaart.
There are a lot of negative factors of United to be exploited by Tottenham, particularly:
United played a Carling Cup fixture during this midweek whilst Tottenham had a full week of rest.
Nani will have more difficulty guarding Bale than the other way round.
Modric-Huddlestone CM combination is as solid as, if not better, than Scholes-Fletcher partnership.
However, I don't think that's enough for Tottenham to make up a victory at Manchester. United's defence is unarguably one level higher than Tottenham and Berbatov-Chicharito combination will possibly destroy away's defence. Crouch will need to double up his accuracy if they are to grab points from Manchester United, in my opinion.
Prediction: Man Utd 3-1 Tottenham
The Rest
Arsenal v West Ham (3-1) - Captain Fabregas, captain Nasri, captain Chamakh.
Blackburn v Chelsea (0-2) - Samba is back, but that won't change the outcome much.
Everton v Stoke City (2-0) - The Toffees are back on track and shouldn't lose this one.
Fulham v Wigan (1-1) - The cottagers are losing themselves and Wigan should be able to sneak in.
Wolves v Man City (0-2) - No Tevez but does that matter? No.
Aston Villa v Birmingham (2-1) - Zigic starts to find his form but Birmingham can't be trusted at away, yet.
Newcastle v Sunderland (2-2) - Newcastle are still short of home wins other than the 6-0 demolition of Villa.
Bolton v Liverpool (1-2) - Victory shouldn't be a problem for the Reds if they can play like how they play against Blackburn.
Blackpool v West Brom (2-3) - The Baggies are quite familiar with their former Championship opponent and should be able to outplay the Seasiders again.
---
PART II: SQUAD SELECTIONS
Marouane Chamakh
A good chance for goals.
Captain Picks
Fabregas/Nasri/Chamakh - It's quite hard to guess who will cast the main character, but he should be one of them.
Brunt - A good gambling pick.
Buy-Ins
Bosingwa - His price should rocket the next 2-3 weeks.
Sell-Outs
Tevez - Keep if you believe that he'll only out for one week; otherwise sell.
Squad of XV
GK: Howard
DF: A Cole, Coleman, Warnock
MF: Nasri, Fabregas, Brunt, N'Zogbia, Nolan
F: Chamakh(C), Torres

Subs (in order): Friedel, Richards, Bosingwa, Carroll
Captain: Chamakh
Emergency Captain: Value
Starting XI Value: £80.2m
Total Team Value: £103.0m