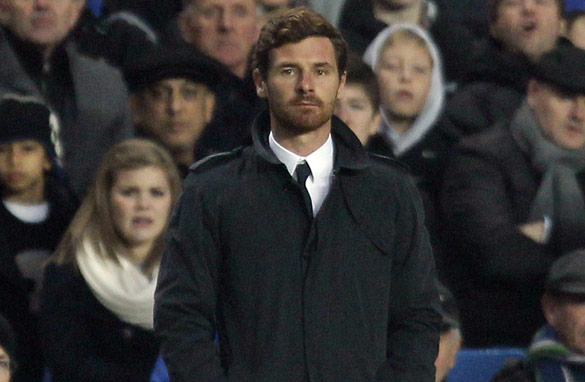 The man in deep shit: Andre Villas-Boas
Overview
Arsenal was the only team that has made it through the knock-out stage this week in the Champions League, with the other three still on doubt of progressing the group stage especially for Manchester City. Bad year for English clubs on the European tournament?
Gameweek 12 Mini Review on the Top 7
Manchester City
: Still unmatched upfront, but defence has slightly deteriorated.
Manchester United
: Earned 3 points in ugly style. Either they wake up or expect poor run of results coming in.
Tottenham:
As long as Adebayor and Van der Vaart take turns to hit form, Champions League is highly probable.
Newcastle
: Hatem Ben Arfa should be a major fantasy force soon after a great performance against City.
Chelsea
: Get rid of them. Terrible defence. Not looking sharp upfront neither.
Liverpool
: Hard to pick them as they are not consistent enough. Defence is reliable though.
Arsenal
: You can never go wrong with Van Persie.
Game of the Week: LIVERPOOL v MANCHESTER CITY
Charlie Adam has shown
great vision on the game
against Chelsea.
Wealthy City will travel to neighbouring city Liverpool as they try to demolish Anfield with Sheikh's money.
With
annual losses of £194.9m
, City owns one of the highest wage bill across Europe with the likes of Silva, Aguero, Nasri and more. With that kind of money, City has the ability to challenge for titles this season, and has topped the Premier League table currently with a comfortable 5-point lead. Massive, massive season for them.
The Blues travelled to Naples for a Champions League tie against Napoli and that definitely took away some of their fitness, so do not be surprised by rotation. Silva should start though, as he had only played for 30 minutes in the game against Newcastle and less than 45 minutes for two international games before that - might be a strategy that Mancini prepares to play him against both Napoli and Liverpool.
On the other side, Liverpool will have no fitness problems when they host City, and Dalglish had clearly stated that Premier League is their top priority despite having a League Cup tie with Chelsea two days after that. However, Suarez trouble over racism allegations will make their chances of winning this game gloomy, especially if his match ban penalty starts from that game. Big doubts.
Manchester City might just be too tough for the Reds so I'll go for an away win. A narrow one though.
Prediction: LIV 1-2 MCI
Pick: Silva, Aguero
Fantasy Game of the Week: NORWICH v QUEEN'S PARK RANGERS
Heidar Helguson has picked
up 39 fantasy points from
his last 5 games.
With all the big clubs having European tie and League Cup tie before and after this week's game, let's focus on the battle between two promoters of the league.
Both teams are poor in defence, so offensively I can see a big scoreline.
Expect the likes like Pilkington, Holt and Morison to battle all out against Helguson, Barton, Wright-Phillips and Taarabt to grab three points from the tie.
Helguson might be worthy for your captain armband with his spectacular run of form currently.
Prediction: NOR 3-2 QPR
Pick and Captain: Helguson
Pick: Pilkington, Holt, Morison, Barton, SWP, Taarabt
Drop: NOR and QPR defence
Pick and Drop
Pick and captain:
Van Persie - Might play only half of the game, but still too good to refuse.
Walters - Blackburn should be leaky enough for him to perform.
Van der Vaart/ Adebayor - West Brom's defensive qualities won't be enough to stop them.
Pick:
MUN defence - Should be formidable with captain Vidic leading the line.
SUN defence - Solid and cheap. Against Wigan it's highly possible for another clean sheet.
Agbonlahor - If he can get enough chances, he should defeat Vorm.
Drop:
NEW defence - A clean sheet at Old Trafford? Negative for me.
FUL defence - RvP is unstoppable.
Transfer Traffic
Green light (buy):
Van Persie - Simply too good.
Hoilett - Cheap. Solid.
Walters - Ultimate influence.
Richards - Seems to outperform Kompany at the moment.
SUN defence - Some good fixtures ahead.
MUN defence - Showing great resolution.
Ben Arfa - Extremely threatening.
Yellow light (hold):
Ramsey/ Arteta - See if something develops to make one of them more superior than the other.
Red light (sell):
Suarez - Should be match banned soon.
MUN offence - Shaping into a 1-0 team.
NEW defence - Collapsing against big teams.
Gameweek 13 Dream Team
De Gea
Shawcross -- Brown -- Walker
Van der Vaart -- Walters -- Pilkington -- Barton
Helguson -- Van Persie (C) -- Holt
Subs: Vorm -- Taarabt -- Hutton -- Weather